Secret Heads to DCentral Miami
Secret Network will be attending DCentral Miami from November 28-29! Here's a preview of what we'll be up to at the conference.
Hello Secret community!
Last year we attended Secret's first DCentral conference in Miami. We had such a great (and productive 💪) time that we're headed back for another round: we'll be at DCentral Miami from November 28-29!
Keep reading about our plans for DCentral Miami and how you can join us!
Secret Network at DCENTRAL
DCENTRAL Miami brings DeFi, NFT, and all of Web3 together in one place to learn, collaborate and connect, and we're here to crash the party (with privacy)! The event brings together students, developers, influencers, media, and investors within the Web3 community, and we can tell them all about Secret Network, our community, and our upcoming plans.
We have a ton planned:
Secret Network is a major sponsor, so we'll have a booth to answer all attendee questions
We're giving away LIMITED Secret NFTs exclusive to attendees, along with some awesome swag 🧢
We'll record some events and talks, so you can join in on the fun, even if you're not in Miami 🌴
Tor Bair of Secret Foundation will take the stage to discuss what Secret is doing to continue enhancing and growing awareness around Web3 privacy.
If you're attending the conference, stop by, grab Secret swag, collect your special Secret Badge, and hang out with us to learn all the secrets you can handle! If you're interested in attending, get your ticket today.
Join us in Miami as part of the Secret Service!
Calling all Secret Agents!🕵️‍♂️
In the Miami area during DCentral? If so, you can join us at DCentral for FREE! We're building a Secret Service team for DCentral Miami to help us work the booth and share Secrets with Web3 privacy enthusiasts. But we only have three spots, so apply to join our official Dcentral Miami Secret Service team!
What's Next?
Shortly after DCentral on December 15, we'll be hosting Secret Summit, Secret Network's flagship digital conference, with talks, panels, and workshops by Web3 privacy pioneers from our ecosystem and beyond.
We're bringing together privacy advocates, Cosmos leaders, and top-notch developers for this can't-miss one-day digital event. We'll even be sharing some very special secrets! Get your tickets today!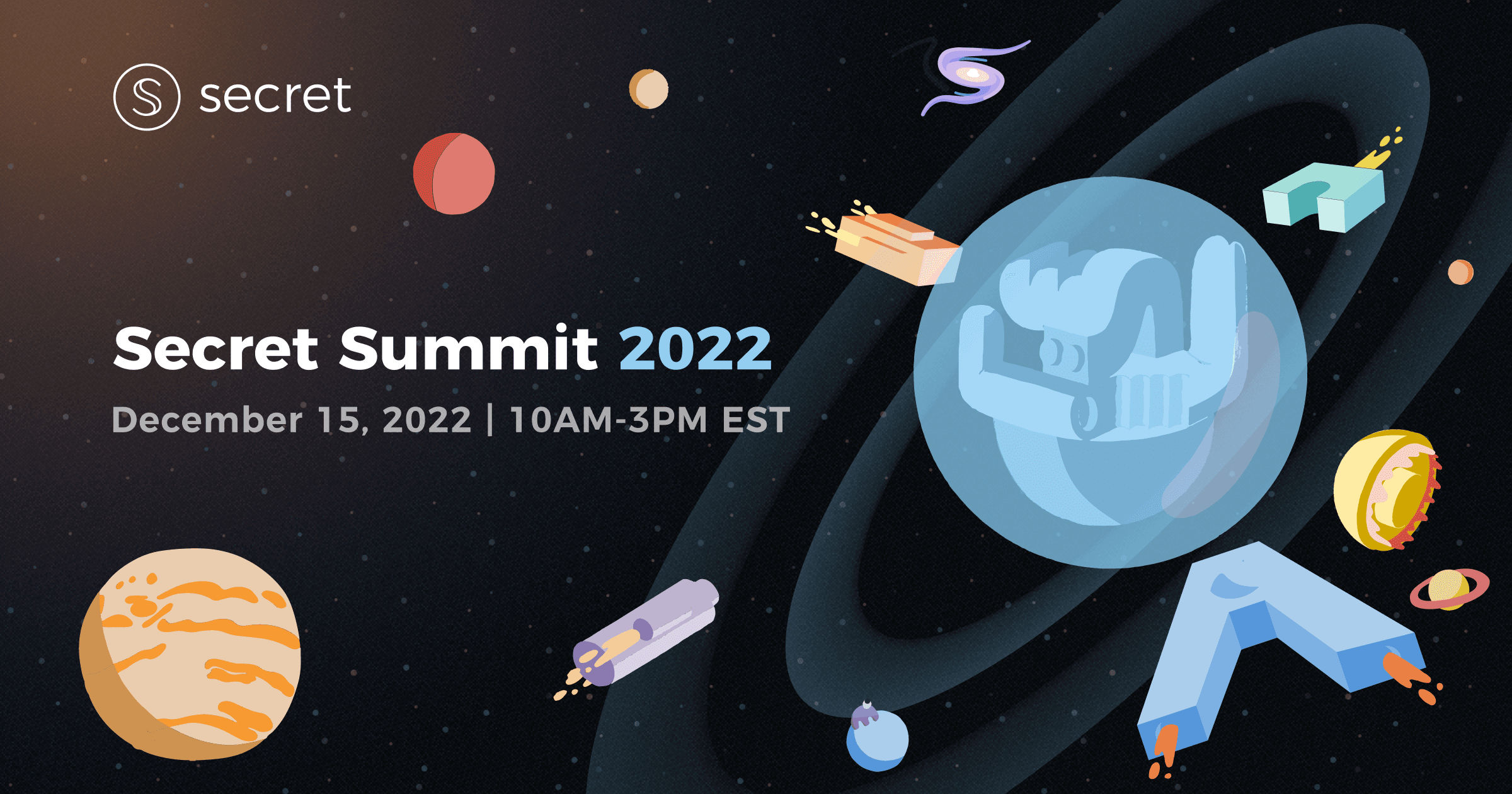 We also have upcoming dApp releases, network upgrades, and significant announcements to feature. So stay tuned on all our channels for more events and upcoming Secret news!
Get Involved
Want to get more involved with Secret? We're constantly trying to create new ways for our global community to contribute to our ecosystem. Check out the Secret Agents program, where you can get direct guidance and support as you join one of the best and most committed communities in the blockchain space!
Check out the Secret Agents program and join one of the best and most committed communities in the blockchain space!
We hope to see you in Miami!
Onwards and upwards!